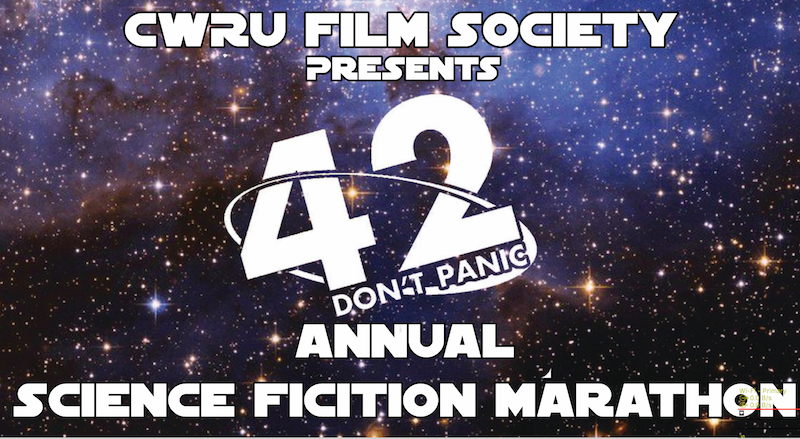 42nd Science Fiction Marathon - Jan. 20-21, 2017
Schedule Summary
| Start Time | Title |
| --- | --- |
| 8:00pm(ish) | Independence Day: Resurgence (2016, PG-13, DCP) |
| 10:45pm | Metropolis (1927/2010 restoration, NR, DCP) |
| 1:30am | Surprise 1: Godzilla (1998, PG-13, 35mm) |
| 4:00am | Gulliver's Travels (1939, NR, Blu-ray) |
| 5:30am | Death Race 2000 (1975, R, media TBD) |
| 7:00am | Have Rocket Will Travel (1959, NR, 35mm) |
| 9:15am | Akira (1988, R, Blu-ray) |
| 11:30am | Surprise 2: Hercules Agains the Moon Men (1964, NR, DVD) |
| 1:15pm | The Adventures of Buckaroo Banzai Across the 8th Dimension (1984, PG, 35mm film) |
| 3:00pm | The Little Prince (1974, G, DVD) |
| 4:45pm | Surprise 3: Contact (1997, PG, 35mm) |
| 7:30pm | Arrival (2016, PG-13, DCP) |
| 9:45pm | The Hitchhiker's Guide to the Galaxy (2005, PG, 35mm) |
| 11:45pm | Ghostbusters (2016, PG-13, 35mm) |
See below for more detailed movie descriptions.
Movies, order and times subject to change. Check back for more information closer to the event.
Food Schedule
Friday, January 20th
7:00 p.m. - Pizza ($2.00 / slice)
Saturday, January 21st
12:00 a.m. - Doughnuts ($1.00 each)
6:00 a.m. - Bagels ($2.00 each)
12:00 p.m. - Subs ($3.00 / quarter sub)
6:00 p.m. - Pizza ($2.00 / slice)
Check out the two concessions stands for a variety of snacks and drinks!
During marathon, real-time updates will be posted to the CWRU Film Society twitter feed.
Important Details
Free parking is available in both Lot 01A and Lot 44. Lot 1A is open for entry between 5:00 pm and 9:00 pm on Friday, January 20th. Lot 44 will be available after 4:30 pm on Friday. If you arrive earlier than 4:30 pm, you will have to pay for parking in the Veale Parking Tower (lot 53) at the posted rates. If you park at a location other than Lot 44 or Lot 1A, we are not responsible for any parking tickets or loss of access to your vehicle. It is highly suggested that marathon attendees stick with the lots we recommend.
Early Arrivals
If you arrive before 6pm on Friday for the Marathon, there will be NO OFFICIAL SPACE for you to camp out. If you intend to arrive early, please anticipate making your own arrangements.
Admission Information
Admission information is subject to correction. Please check back before finalizing your plans.
Pricing for this year's science fiction marathon is $30 per person. Tickets go on sale Friday, January 20 at 6pm in the lobby of Strosacker Auditorium. No one under 18 admitted without parental supervision.
If you are unable to stay for the entire marathon, you may purchase tickets for movies individually. If you surrender a state or college ID to us, we will allow you to pay $4 per movie you wish to stay for. You are free to stay for more movies than you initially pay for, however you will be charged the balance before return of your ID. You may also simply purchase a wristband for the remaining balance of the marathon upon your arrival if you do not wish to surrender an ID (maximum charge of $30.)
Pre-sale tickets will be sold Monday, January 17 through Thursday, January 19 in Nord Atrium, the building across from Strosacker. A $25 per ticket price will be available to CWRU faculty, staff, and students as well as employees of University Circle businesses. Other members of the community will be able to purchase for $30. All wristbands will be available for pick-up the evening of the event when the doors open. Pre-sale tickets do not allow you to enter the theater before 6:00 pm.
Rules
No alcohol. No glass bottles. No fire hazards. Bring deodorant. Bring a toothbrush. Don't forget your towel. Space for sleeping bags is available on a first-come first-served basis. No one under 18 admitted without parental supervision. All bags are subject to inspection before admittance.
STAGE RULES: It is no longer possible to remove the classroom A/V equipment from the stage (stage left/house right side) for Marathon. Aside from losing precious mattress/sleeping bag real estate, we must prevail upon our audience to not fiddle with, place, store, or spill food & beverages on, fold, spindle, mutilate, or otherwise in any way disturb that equipment.
---
Detailed Movie Descriptions
Friday, January 20
8:00 p.m. Independence Day: Resurgence (2016)
Rated PG-13 (120 min)
Director: Roland Emmerich
With Liam Hemsworth, Jeff Goldblum, Bill Pullman
Format: DCP
Two decades after the alien invasion that nearly destroyed mankind, a new threat emerges. This Alien mothership is more than twice the size of the last one and once again, the world's armies must band together to save the world. Do they have enough firepower or will aliens take over?
Read more about it at the IMDB
10:45 p.m. Metropolis (1927)
Rated NR (153 min)
Director: Fritz Lang
With Brigitte Helm, Alfred Abel, Gustav Fröhlih
Format: DCP
Metropolis is a wonderful city, high above the ground its towers stand. The people prosper, the economy is flourishing, the suspended streets are busy. In the depths underneath is the City of Workers, filled with the exploited autonomous population. Freder, the son of Metropolis's founder, tries to convince his father to change, while Maria tries to keep workers' morale high. Maria is hoping someone will mediate between the two cities: someone that will be the heart.
Read more about it at the IMDB
Saturday, January 21
1:30 a.m. [Surprise I] (PG-13)
Format: 35mm
4:00 a.m. Gulliver's Travels (1939)
Rated NR (76 min)
Director: Dave Fleischer
With Jessica Dragonette, Lanny Ross, Pinto Colvig
Format: Blu-ray
Gulliver washes ashore on Lilliput and attempts to prevent war between that tiny kingdom and its equally minuscule rival, Blefuscu, as well as smooth the way for the romance between the Princess and Prince of the opposing lands. In this he is alternately aided and hampered by the Lilliputian town crier and general fussbudget, Gabby. A life-threatening situation develops when the bumbling trio of Blefuscu spies, Sneak, Snoop, and Snitch, manage to steal Gulliver's pistol.
Read more about it at the IMDB
5:30 a.m. Death Race 2000 (1975)
Rated R (80 min)
Director: Paul Bartel
With David Carradine, Sylvester Stallone, Simone Griffeth
Format: Blu-ray
In the near future the ultimate sporting event is the death race. Contestants get score points for running people down as they speed across the country. The sport has crazed fans who sacrifice themselves to the drivers. An overt agency is trying to bring an end to the immoral death race and has infiltrated one of their followers into the race as a navigator. In the end of the race the lives of the competitors, the President and the death race itself are in peril.
Read more about it at the IMDB
7:00 a.m. Have Rocket, Will Travel (1959)
Rated NR (76 min)
Director: David Lowell Rich
With Moe Howard, Larry Fine, Joe DeRita
Format: 35mm
The 3 Stooges are cleaners at a spaceport when they accidentally take off and land on Venus. The boys encounter a talking unicorn, a giant fire breathing tarantula, and an alien computer that creates three evil duplicates of the Stooges.
Read more about it at the IMDB
9:15 a.m. Akira (1988)
Rated R (124 min)
Director: Katsuhiro Otomo
With Nozomu Sasaki, Mami Koyama, Mitsuo Iwata
Format: Blu-ray
Kaneda is a bike gang leader whose close friend Tetsuo gets involved in a government secret project known as Akira. On his way to save Tetsuo, Kaneda runs into a group of anti-government activists, greedy politicians, irresponsible scientists and a powerful military leader. The confrontation sparks off Tetsuo's supernatural power leading to bloody death, a coup attempt and the final battle in Tokyo Olympiad where Akira's secrets were buried 30 years ago.
Read more about it at the IMDB
11:30 a.m. [Surprise II] (NR)
Format: DVD
1:15 p.m. The Adventures of Buckaroo Banzai Across the 8th Dimension (1984)
Rated PG (103 min)
Director: W.D. Richter
With Peter Weller, John Lithgow, Ellen Barkin
Format: 35 mm
Buckaroo Banzai is a rock-star/brain-surgeon/comic-book-hero/samurai/etc. who along with his group, the Hong Kong Cavaliers, must stop evil creatures from the 8th dimension (all named John) who are trying to conquer our dimension. He is helped by Penny Pretty, who is a dead ringer for his late wife, and some good extra-dimensional beings who look and talk like they are from Jamaica.
Read more about it at the IMDB
3:00 p.m. The Little Prince (1974)
Rated G (88 min)
Director: Stanley Donen
With Richard Kiley, Steven Warner, Joss Ackland
Format: DVD
Based on the story by Antoine de Saint-Exupery, this magical musical fable begins as a pilot makes a forced landing on the barren Sahara Desert. He is befriended by a "little" prince from the planet Asteroid B-612. In the days that follow, the pilot learns of the small boy's history and planet-hopping journeys in which he met a King, a businessman, an historian, and a general. It isn't until he comes to Earth that the Little Prince learns the secrets of the importance of life from a Fox, a Snake, and the pilot.
Read more about it at the IMDB
4:45 p.m. [Surprise III] (PG)
Format: 35mm
7:30 p.m. Arrival (2016)
Rated PG-13 (116 min)
Director: Denis Villeneuve
With Amy Adams, Jeremy Renner, Forest Whitaker
Format: DCP
Aliens have landed on Earth in 12 different locations. Language professor Louise Banks joins a US army team at one of the locations in Montana. Her job is to try to learn the aliens' language and enable communication with them. Through regular meetings with two of the aliens, she starts to compile a record of their "language" — a series of drawn symbols. The important question is &mdash are they friend or foe? Other nations are starting to view them as a threat, making it a race against time as war with the aliens could erupt at any moment.
Read more about it at the IMDB
9:45 p.m. The Hitchhiker's Guide to the Galaxy (2005)
Rated PG-13 (109 min)
Director: Garth Jennings
With Martin Freeman, Alan Rickman, Zooey Deschanel
Format: 35 mm
Everyone has bad mornings. You wake up late, you stub your toe, you burn the toast... but for a man named Arthur Dent, this goes far beyond a bad day. When he learns that a friend of his is actually an alien with advanced knowledge of Earth's impending destruction, he is transported off the Earth seconds before it is exploded to make way for a new hyperspace motorway. And as if that's not enough, throw in being wanted by the police, Earth II, an insane electronic encyclopedia, no tea whatsoever, a chronically depressed robot, and the search for the meaning of life. Don't forget your towel!
Read more about it at the IMDB
11:45 p.m. Ghostbusters (2016)
Rated PG-13 (116 min)
Director: Paul Feig
With Melissa McCarthy, Kristen Wiig, Kate McKinnon
Format: 35mm
Following a ghost invasion of Manhattan, paranormal enthusiasts Erin Gilbert and Abby Yates, nuclear engineer Jillian Holtzmann, and subway worker Patty Tolan band together to stop the otherworldly threat.
Read more about it at the IMDB